Dr. Donna Housman @ Books of Wonder Speaking About Her New Book
by Housman Institute, May 31, 2023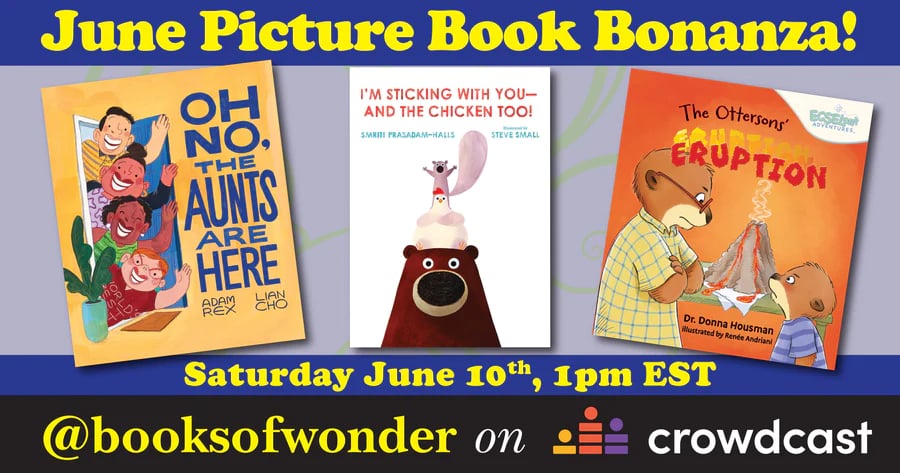 Discover New, Essential Picture Books!
📆 Date: June 10th
🕠Time: 1 PM EST
📍Where: Virtual
👤Who: Teachers and Caregivers
What:
Be sure to tune in with your young readers for this picture book bonanza, showcasing some wonderful new picture books you'll want to add to your collection! From otters who lose their cool, to a cavalry of eccentric aunts, to friendly woodland critters, there's a picture book for ever eager reader.
Join us to delve into:
The Ottersons' Eruption

by

DR. DONNA HOUSMAN. While shopping, Hemmy and Daddy disagree about buying a new snack, and BOOM!, emotions erupt right in the grocery aisle. Can Daddy keep his cool while Hemmy loses his? This book invites children to solve our prickly-feeling problems together!
Oh No, the Aunts Are Here

by

ADAM REX. They've traveled on planes, in taxis, and across state lines

— who are they? IT'S THE AUNTS! This hilarious (and relatable) picture book shows one girl's experience with her over-enthusiastic and overwhelming relations. Will she be able to survive this family reunion?
I'm Sticking With You — And the Chicken Too! by SMRITI PRASADAM-HALLS. Bear and Squirrel are the best of friends and perfectly in tune, but is there any room for Chicken? Fed up of not fitting in, Chicken leaves — and lands herself in hot water! Will Bear and Squirrel come to the rescue?
Saturday, June 10th at 1:00 PM EST via Crowdcast.
RESERVE YOUR SPOT ON CROWDCAST!